Obsessive - 840-seg-1 3 pieces set s/m
Obsessive - 840-seg-1 3 pieces set s/m: Description
Guess what? This set can't wait to give you what you've been dreaming of – incredibly tempting look, plenty of sex appeal and great pleasure! Ready to feel very nice thrills? Let this set come to you and adorn your beautiful body!
Know more about this set:
Elegant set with garter belt - bra with triangle, soft and comfortable cups
White embroideries – plenty of charm
Regulated straps and closure – great fit is easier than you think
Richly adorned garter belt with adjustable straps
White embroidery on subtle, black mesh
Set includes bra, garter belt and thong
Product doesn't include stockings
Nice and elastic fabrics (94% polyamide, 6% elastane)
Size: S/M
Obsessive means inspiration for women. Elegance,sensuality, embroidery love ... Best fabrics and best embroideries to create unique pieces of lingerie. Years working to join the best quality - prize relation.
World leaders in lingerie! Nobody makes better!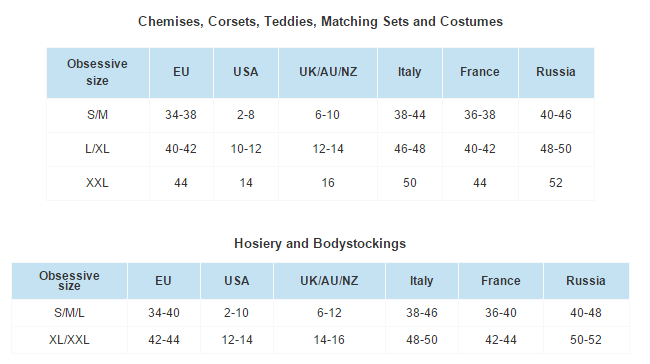 Additional Product Details Obsessive - 840-seg-1 3 pieces set s/m
Obsessive - 840-seg-1 3 pieces set s/m has manufactured the OBSESSIVE SETS brand.
You have to use the product Obsessive - 840-seg-1 3 pieces set s/m as it is written in their instructions. Thus in case of failure the OBSESSIVE SETS brand will take care of the warranty.
Buy Obsessive - 840-seg-1 3 pieces set s/m
The Obsessive - 840-seg-1 3 pieces set s/m product has an incredible price of $25.49.
This product is made by the erotic toys brand OBSESSIVE SETS
Remember that the toys of the manufacturer OBSESSIVE SETS are discreetly delivered in 3/4 days as they are packaged in neutral brown boxes with no kind of advertising on them. Nobody will know where the package comes from. Your privacy is our commitment.
If you buy this item and register is our online shop, you will get amazing personalized offers and exclusive reductions for your next purchases.
More Information about Obsessive - 840-seg-1 3 pieces set s/m

| | |
| --- | --- |
| Weight | 125.000000 |
| Manufacturer | OBSESSIVE SETS |
Frequently Bought Together
Customers Who Bought This Item Also Bought