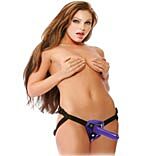 The harnesses or also called strap-on are a fantastic kit that consist of a vibrator or dildo and an accessory to hold them. You can use them with the couple you want, be it boy or girl; since the stimulation is totally recommended for both.
Items 1-81 of 318 Harness Strap-on
Items 1-81 of 318 Harness Strap-on
Harnessed or strap-on vibrators are like a dildo or vibrator, but produce added sensations for the user and receiver. Like a standard dildo, some vibrators can be attached to a harness and used to deliver vaginal and anal pleasure. This is typically a gender role reversal activity, but due to the added vibrations it is also appropriate for female couples who want to include an element of insight into their sex play routine.
Dildos of this type are normally used in search of fulfillment of various fantasies and fetishes. Strapon vibrators or dildos stimulate slow and useful penetration. Once the strap on is introduced, they should provide pleasure through the bodies of both (the one wearing it and the one receiving it). The vibrator provides exciting sensations, and the physical effort of the user is not necessarily superior. In this way, a mutual orgasm is achieved and the pleasure of changing roles is maintained.
Men who fantasize about their partners taking control of the intimate encounter can benefit from a harness-shaped dildo and vibrator . Not only do they experience new anal pleasures, but they will ensure that the vibration functions complete their prostate stimulation. Lesbian couples use this type of dildos and vibrators a lot because they can increase their sense of intimacy with full penetration and long, powerful pulsations. These types of harnesses promote continuous body contact and the pleasure that comes from discovering other "secret places."