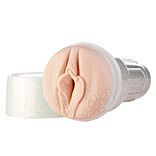 Take a look at our wide range of male masturbators and canned vaginas in a variety of styles, colors and sizes. Here you will find the newest and most popular products from manufacturers around the world of the highest quality. We have the best prices, friendly service and complete privacy when you buy; that's our guarantee for you.
Items 1-81 of 643 Masturbation sleeves
Items 1-81 of 643 Masturbation sleeves
A few years ago it was believed that sex toys were only for women, except for inflatable dolls, but that is not true. In recent years, masturbators have become fashionable and have begun to lose their taboo at the same time that they attract the attention of millions of men, since these new toys are made with technology and research that make them very pleasant and even discreet in some cases.
What are masturbators?
Male masturbators are erotic or sexual toys that have the main objective of increasing man's pleasure while masturbating. In most cases, masturbators aim to imitate the realism of the different parts of the woman as much as possible in order to provide realistic pleasure, very similar to that of the skin and the interior of a woman.
Today you can find a wide variety of male masturbators, but the main ones can be divided into 3: those that mimic the shape of the vagina, anus and mouth. These are specially made to imitate the sensation that each erotic zone of the woman creates, trying to provide the same sensation as if you were having sex with a person.
But you should not doubt the quality of the masturbators, since they are made with the latest technology to fulfill their objective as well as possible. They are made with soft and technological materials that seek to provide realistic penetration when using them.
Some masturbators have vibration technology built in to further increase sensations and pleasure, making vibrators not just their thing anymore, as it is worth mentioning that there is a wide variety of male vibrators.
Over time, male masturbators have improved a lot, to such an extent that not only does the interior of the masturbator matter, but its shapes are also carefully created and in great detail to imitate the female sexual parts, even molded with the form of some adult actress. There are even masturbators that are all the pelvic part of the woman.
They can also be used with lubricants or with automatic heaters that greatly improve the realism, pleasure and experience of using one of these sex toys.
Can lubricants be used with masturbators?
As I mentioned earlier, some lubricants can be used with male masturbators to increase pleasure. Normally these lubricants are a softening gel that is made based on water and that provide softness and hydration in the area.
They have a silky and natural texture, in addition to being generally respectful of the most delicate skins and are easy to clean.
How should male masturbators be cleaned?
We already mentioned that masturbators and lubricants are made to make cleaning really easy. In addition to that, there are products that are specially made for cleaning masturbators. Most of these toy cleaners are made from triclosan, an ingredient that purifies, cleanses, and kills bacteria where it is applied.
These cleaners are very easy to use. All you have to do is spray a generous amount of this cleaner on the surface of the masturbator, clean it, and then let it air dry. Most of these cleaners are made to clean toys made of silicone, latex or superskin, but I recommend that you see in the instructions the type of cleaner that is compatible with the masturbator that you plan to buy.
What are the benefits of using a masturbator?
Do masturbators have any benefits other than the pleasure they provide? Of course, the truth is that they have several benefits, both sexually and in our health. Having ejaculations is important to keep the blood flowing and thus having good levels of oxygen and hormones in the correct areas.
Various studies have proven that masturbation is an excellent anti-stress technique , since in addition to causing instant pleasure, it releases the sexual tension that is created over time.
Remember that men not only have to masturbate to give themselves pleasure, but this is something that must be done to satisfy a physical need, since the male sexual organs continuously produce sperm, which accumulates and causes our body to need to eject it.
Masturbation has also been shown to increase libido , strengthen the pelvic muscles, help control premature ejaculation disorders (with proper training) in sexual activity.
On the other hand, the use of masturbators can also improve prostate health, as studies and research have revealed that men who masturbate regularly have better prostate health , greatly reducing any disease and condition in it.
Another benefit that we find in male masturbators is that they are mostly very discreet . That is to say, once the housing is put in, you don't see any special shape, so they don't look like masturbators, so they can be very well concealed wherever you store it.
There are some disposable masturbators like TENGA eggs, which you should throw away after using them 1 or a maximum of 2 times (if they are cleaned very well and very carefully), so you won't have to put them away and be nervous that someone will find them.
What are the different types of masturbators?
There are a wide variety of masturbators on the market, but the most popular are these:
Masturbating Eggs : The best example is the famous TENGA eggs. They have become very popular because they give great pleasure at a very affordable price.
Realistic Masturbators : Masturbators that have the main objective of imitating the female parts both in touch and in image.
Inflatable Dolls : Some inflatable dolls come with included masturbators, greatly enhancing the pleasure they provide.
Masturbators with vibrator : A wide variety of masturbators are equipped with a vibration system to increase pleasure.
Hyper realistic masturbators: In these masturbators we do not find the separate sexual zones, we can find complete body parts made with great realism.
Male masturbators are the star product for them in our Sex Shop. They are normally toys for men (or canned vaginas) that are used to simulate the woman's vagina, although there are also many different forms such as and other parts of the body such as mouths and years . The most famous male masturbators are those of brands such as Fleshlight , Tenga or Fun Factory.
Masturbators are often touted as the best of both worlds when it comes to male personal pleasure. For those looking to have fun and add some excitement to the pleasures of masturbation, these masturbators can definitely come in handy. They are also suitable when used as a sex tool to help increase longevity and sexual vigor.
LOVIUX is pleased to offer you a wide selection of male masturbators to meet your individual needs. Whether it is a simple cover with textures and protrusions or one of our main masturbators with different cameras and functions, you will be sure that you will choose a suitable product for your individual sessions. Look at our catalog and do not hesitate to choose any masturbator that catches your attention, since they are all of excellent quality. Use the masturbators alone or with your partner and let their sensations do the rest.