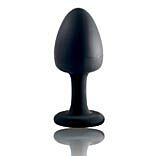 Female anal plugs are very effective for sexual arousal because they tend to involve nerve and muscle action that is intrinsic to erotic function. Something that passes through the anal sphincter has the potential to create sensations that are almost impossible to achieve through traditional external sexual contact. The key to exploring and applying these anal plugs effectively is finding the perfect design, size, and curvature for your particular body shape and height. For millennia, almost every culture on earth has built some kind of anal arousal device that increases sexual pleasure. Alternative methods of stimulation of these inner regions are not new, but modern adult toy makers have tried to make creating anal plugs like an art.
For women, anal toys are primarily used to enhance the muscle response that can trigger more intense orgasms. Some women also have partners who like exploration of the anal cavity. Anal plugs are the ideal training devices for these activities.
These anal toys are sold in unimaginable sizes and shapes. They can be delicate and thin products, or they can be extremely wide and extravagantly contoured. The prolonged application, insertion and retention of an anal plug can create a pleasure that is unattainable by any other method. Anal dildos exist that are especially large and only suitable for experienced people, as they have the ability to totally overwhelm anyone by stimulating all surfaces that are exposed by anal exploration. In most cases, once the stigma of utilization is overcome, anal comforters positively influence sexual satisfaction.